Nix the Knotweed Events, Old Lyme 
From Suzanne Thompson:
Location: Lyme Art Association, 92 Lyme Street, Old Lyme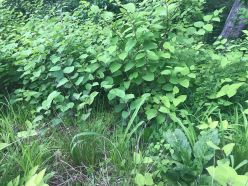 All start at 5 pm 
Wednesday, May 31
Monday, June 5 
"We don't expect volunteers to work more than 1 hour, so if you can't arrive until closer to 5:30 pm, that's OK, too. We wrap up by 6:30 pm.
LAA is an interesting site and opportunity to bone up on native and invasive plant ID skills – this is a non-profit organization's property, so we welcome Master Gardeners to put in volunteer hours! We are in our 3rd and 4th years of cutting knotweed here, so lots of other plants in the seedbed have been released. We will be wading through sedges, deer tongue & other grasses, asters, wild lettuce, ferns, to selectively cut out the knotweed.
So – we recommend sturdy shoes/boots, covered legs and arms, bring hand clippers or long loppers, gloves, bug spray and water bottle – and favorite smart phone plant ID app!
Thunderstorms cancel, but we work in light rain."
---
Knotweed Cutting Work Party
New Hartford's Helen Butler Riverfront Trail
Sunday, June 4th at 9:00 a.m.
Jointly organized by New Hartford Land Trust and the New Hartford Open Space Preservation Commission, this work party is set for the optimal time to cut Japanese knotweed (early June). Come out to learn a bit about this hard-to-eradicate invasive plant and its management and then to cut as much as we can. If you can spare an hour or two, please help! Rain will cancel.
Please e-mail

newhartfordlandtrust@yahoo.com to RSVP
and for details on what tools to bring, waiver forms for Town, directions, etc.
---
Ridgefield Conservation Commission Burning Bush Removal
June 4th 1-4 p.m. @ 
Aldrich Park 
2 New Road, Ridgefield, CT

 
Help the Ridgefield Conservation Commission eradicate the highly invasive winged euonymus plant (aka 'burning bush') from Aldrich Park.   
We will be pulling these plants up by their roots.  Most are small enough to be easily pulled by hand.  For larger plants, we will provide easy to use tools. Volunteers will be trained in how to identify and remove these plants (it is super easy!).  
Meet at the trail kiosk.   
Please bring work gloves (these are a must) and water. 
Contact Roberta Barbieri at robbarbieri@hotmail.com
or text 203-273-6142, with questions.
---
FREE INVASIVE

PLANT WALK, TALK and PULL
When:  Saturday, June 10, 10 am – 12 pm
Where: Alfred Sabolcik Preserve, New Hartford, CT
Rain or shine.
What:  Todd Mervosh and Rose Hiskes, CIPWG volunteers, will take us on a 2 hour walk around this property and discuss the invasive species we find. Rose will cover identification, while Todd will cover management techniques.  Please wear proper footwear for the hike and bring water.  Be prepared for ticks by wearing light colored clothing and tuck your pants into your socks.  Bring gloves.
Attendance is limited to the first ten people who register.   
Contact Rose at 
Rose.Hiskes@ct.gov
 to register and get directions.
Additional events are being planned throughout the growing season.
---
Nix the Knotweed Events, Glastonbury
From Land Heritage Coalition of Glastonbury:
"Please join Land Heritage Coalition of Glastonbury's efforts to Nix the Knotweed at Ferry Landing Park in South Glastonbury. 
This will be our third season of cutting this invasive plant in the park. Tentative dates are listed below; please note these are subject to change so be sure to check our website 
www.lhcglastonbury.org
 for the most current information or reach out to me.
Wednesday, June 21, 9-11
Location
: Ferry Landing Park in South Glastonbury
Directions
: Rte 17 to Water Street, right on Ferry Lane. Follow to the end and park in the lot. 
Be sure to wear long sleeves, pants and solid shoes and bring gloves, loppers and/or clippers.
For more information or to RSVP, contact:
Courtney MacDonald
courtneysmacdonald@gmail.com

860-306-8276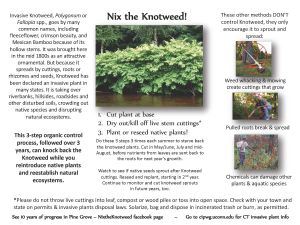 ---
Nix the Knotweed Events, Hadlyme
From Friends of Whalebone Cove (FOWC):
"Please join our efforts to control invasive Japanese knotweed growth on the banks of Whalebone Creek in Hadlyme.
This will be our third season of cutting at our pilot site.
Tentative dates are listed below; for the most current information, reach out to me.
Friday, July 14,  9 – 10:30 am (will start earlier if very hot day)
Friday, August 11,  9 – 10:30 am (will start earlier if very hot day)
* Possible native plants and grasses planting days in September *
Location: Banks of Whalebone Creek at Ferry Rd, Hadlyme (just down the hill from the Hadlyme Public Hall)
Be sure to wear long pants and sturdy shoes/boots; bring water, gloves, clippers and/or loppers.
I will provide sunscreen and snacks!
---
Invasive Plant Removal Party
Spicebush Swamp Park, Mountain Rd.
West Hartford
July 15 and November 4, 2023

9 am – 12 pm
 From Beth Ann Loveland Sennett:
"Please mark your calendars for an invasive plant removal party at Spicebush Swamp Park, Mountain Rd., in West Hartford. If you are interested, please text, email, or call me at 860-729-4150/blovelandsennett56@gmail.com so that I can plan accordingly. I will have handouts, and guided instruction will be provided. Many of you joined us last year, so you will need only a little review. More information will follow soon about best attire, gear to bring, and more. 
As you know, invasive plants are non-native species that spread aggressively in natural areas. Invasive plants have replaced native species in many different habitats in Connecticut. When native plants are displaced in the landscape, the diversity of native birds, insects, other animals, and plants may be decreased and ecosystem functions may suffer."
For more information, contact:
Beth Ann Loveland Sennett
Co-Chair, Civic Projects
West Hartford Garden Club
860-729-4150
blovelandsennett56@gmail.com