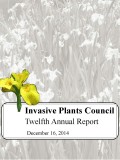 The 2014 Connecticut Invasive Plants Council Annual Report is available online.

A PDF version of the full report is available here.

A shorter PDF version containing only the Chairperson's letter and a summary of activities/accomplishments is available by clicking here.

Visit www.cipwg.uconn.edu/ipc/ for more information about the Invasive Plants Council.
---